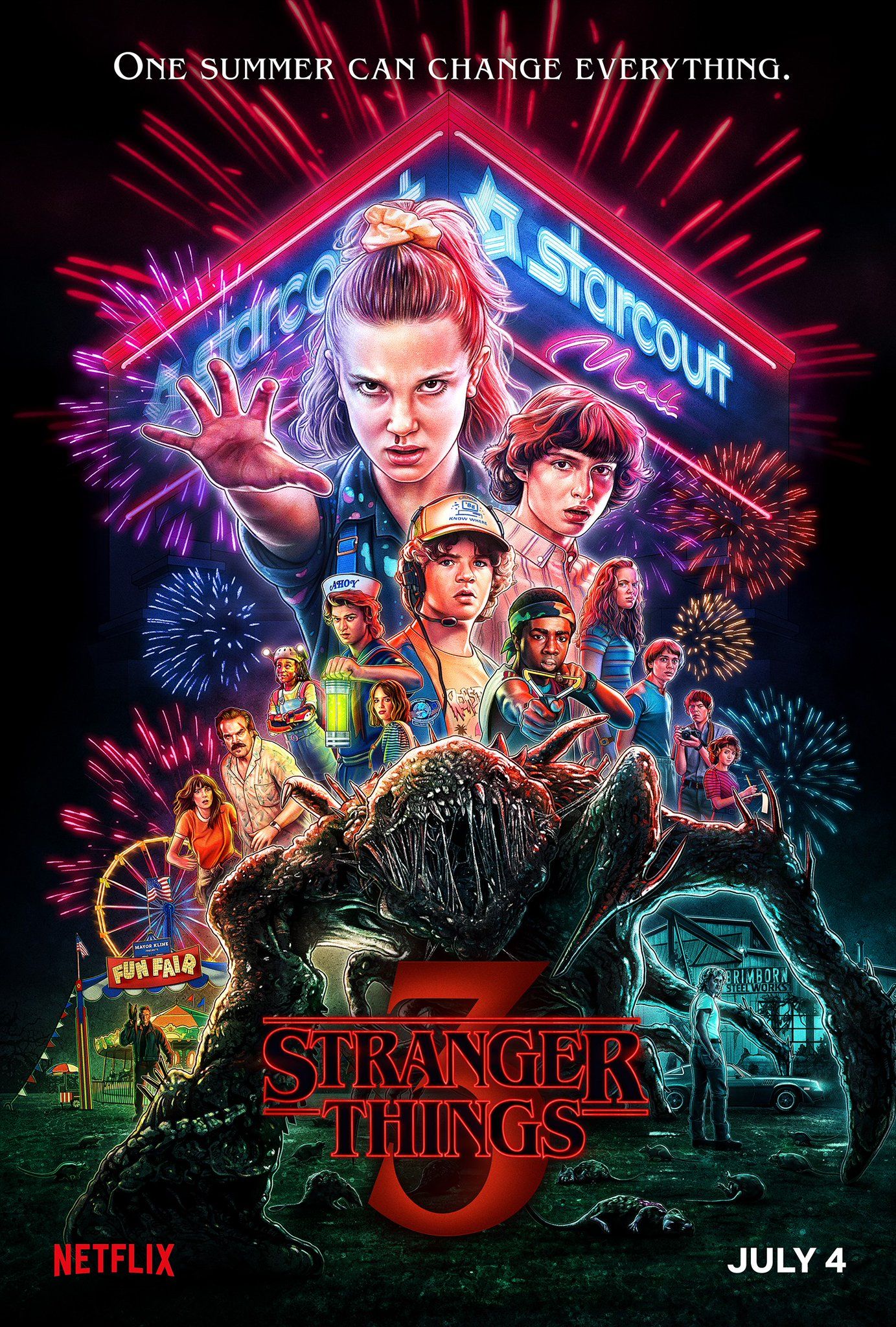 Connor Macgregor Reviews...Stranger Things
3x01 - Chapter One (18) - Suzie Do You Copy
INTRO:
Stranger Things 3 goes in a different yet fun direction, set in the summer and featuring a lot of love.
SUMMARY:
In June 1984, Soviet scientists attempt to force open a new gate to the Upside Down. One year later in Hawkins, the popularity of the new Starcourt Mall has forced many local businesses to close, angering townspeople. Mike and Eleven have begun a romantic relationship, much to Hopper's chagrin; he later threatens Mike into agreeing not to see her. Dustin returns from summer camp and sets up a radio tower to contact his new girlfriend, Suzie, where his friends ditch him, and he instead intercepts a Russian transmission. Will privately senses that the Mind Flayer may still be alive. Rats congregate in a mill and explode into an organic mass. On his way to a sexual encounter with Mrs. Wheeler, Billy is run off the road by an unseen creature and dragged inside the mill.
REVIEW:
The opening of each season always invokes a sense of intrigue and mystery, and here there is no exception: Russians building something sinister, and have discovered the upside down and intent on experimenting with it. But back in Hawkins, everyone is growing up, and summer has swept the small town hard. All the cute kids from the first two seasons are noticeably older, with Mike & Eleven opening the episode with a game of tonsil tennis. Very adorable scene of them being in a couple. You also have Dustin returning to Camp bragging about a new girlfriend he met there, and attempts to contact here via a hand made antenna. He fails, thus raising suspicions among his friends, though he does on the other hand manage to intercept a Russian transmission at the end. With Nancy & Jonathan, their story begins as them interning at Hawkins Post, where Nancy is subjected to some unpleasant sexism which is very heartbreaking to watch. Things fare little better for Steve as he works for Scoops Ahoy with a rather sassy yet fun co-worker Robin. With Steve, post high school life is a challenge for him, with attraction for girls a tad more difficult than before and Robin having a lot of joy rubbing it in his face. We then have Jim Hopper who is struggling to content with Mike & Eleven. He attempts to talk to the two of them, but never goes well. Though Joyce becomes a voice of reason for Hopper, with those romantic tensions still bubbling. Yet Joyce still does miss Bob, and still not over his death from the last season. Lastly there is Billy & Karen, a fun small subplot carried over from the last episode with a lot of flirting and the possible tease of an affair. As Billy & Karen arrange for a liaison, Billy is suddenly kidnapped by what is revealed to be The Mind Flayer with a cliffhanger ending set up. This episode is strong out of the gate, with the summer theme a new fresh feeling for the season, and a great use of 80s music too to make the episode come even more alive than usual. All in all a strong opening episode all around.
RATING: 89% - A-