28 days...6 hours...42 minutes...12 seconds
The other day I caught the flick
Triangle
which was an interesting concept that I actually enjoyed, but felt that it cheated with the core concept. Since I included the film title in this thread, you can guess what the film involves.
Time Travel.
So I don't give away my problem with it, I'll wrap what I have to say about it in spoiler tags, then we can move on.
In the film a group of people enter a storm while on a boat, the boat tips over and they wait for rescue. A cruise liner comes along and they get on board, only to discover that it's empty and they are being hunted by hooded figure, one by one.
WARNING: "Triangle" spoilers below
We discover that the person killing everyone is our lead character, because she finds herself in a TIME LOOP. We follow the her the whole time going through this ordeal. In this time loop she sees her friends (who were just killed) get back on the boat with her doppelganger. Now we see events that happened the first time from the opposite perspective. Then the time loop happens again, we then see the same events play out from a third perspective, so on, so on. We eventually find out that it's happened dozens of times BEFORE because there is about 30 or 40 dead bodies of this one girl in the corner of the ship. So time loop = 40 some odd times. Anyways, the girl eventually gets off the boat, finds her way back home to her son...but sees another doppelganger. So she knocks this woman out with a hammer, hides her in her trunk, takes her son and decides to get as far away as she can to start a new life and hopefully stop this time loop. She gets into a car accident, which kills her son and the doppelganger. So she goes back to the marina, where her friends are and we are back to the beginning of the movie. They go back on the boat, which will tip over, which will make her go back on the cruise liner and go through the whole ordeal again. Very interesting concept, fun movie that deals with time travel and horror.

My problem is this. Just before she gets into the car accident, a bird flies into her window. So she gets out of the car to pick up the dead bird and throw it over the ledge. It's revealed that there are dozens of dead pigeons. So she has escaped before.

We are brought back to the beginning of the film, where we first meet her. So it's safe to assume that everything that happened during our initial viewing, has happened before, yet she does NOTHING to change anything. She still is confused by events and still attacks the hooded figure, which we know is actually herself. Why doesn't she remember? It JUST happened. Why would she go through killing everyone so many times, why not just jump over the side of the ship?

The time loop constant, which is the case in many films (Terminator) but the problem with this film is the main character chooses the same choices she did before, when she knows it will end up a failure. She never attempts to break the cycle.

/End Rant
So now the thread, Time Travel films.
I want to discuss Time Travel in film, the paradoxes, the rules set by each film, what rules work, what ones don't.
EVERYTHING.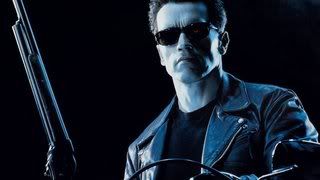 Can people forgive
Terminator
for not having a "start point" in time? It's an enclosed time loop. Son sends father back in time to ensure his own birth. Which came first? The chicken or the egg?
Do people like
Back To The Future's
rules? Every time you change something, it creates an alternate timeline? IS that just an easy way of trying to get around potential plotholes? Does that rule apply to something like the
Butterfly Effect
?
Kutcher is in prison and he goes back in time to when he was a child and he purposely injures himself (stabs his hands) to prove to his cellmate that he can alter time. In the movie the holes suddenly appear before the cellmate, but if he had the injury as a kid, he would have had them when he entered the cell. Which one is correct? Did it create an alternate timeline? One where he always had the injuries and one where it instantly happened?
Ever hear of the
Grandfather Paradox
?
Suppose a man traveled back in time and killed his biological grandfather before the latter met the traveler's grandmother. As a result, one of the traveler's parents (and by extension the traveler himself) would never have been conceived. This would imply that he could not have traveled back in time after all, which means the grandfather would still be alive, and the traveler would have been conceived allowing him to travel back in time and kill his grandfather.
-wiki
Where do the Time Travel Film rules fit in on that one?
The TV show LOST has the rule that "Whatever happened, happened" which means that you have no choice in the matter. If you go back in time and have a gun in your hand, you can either shoot the man before you, or let him live. Whatever choice you make, it what already happened. If you choose to shoot him, but he lives, he was always meant to live. We can't change anything in our past. It's a fulfilling your own destiny of sorts. They caused themselves to crash on the island, right?
They crash on the island, because a man didn't put a code into a computer in the allotted time, which caused a massive magnetic force to pull the plane down from the sky.
The people crashed on the island and through whatever sequence of events, went back in time.
While back in time they caused an incident. There was no way to fix the incident, only contain in. Every 108 minutes someone has to input a code that will keep the massive magnetic energy contained.
They caused the events that led to their own crash. They were always meant to go back in time and do that.
Then we have
Bill & Ted
where you must ensure that whatever happened happened. It's not fate, it's you that must follow what's already happened. They see themselves from the future, have a conversation, go on their journey, then see themselves from the past. Since they already had the conversation with their future selves, they know what to say to their past selves. They choose to follow in their future selves footsteps because if they don't, past selves won't know what to do, in order to continue to cycle.
Whoa.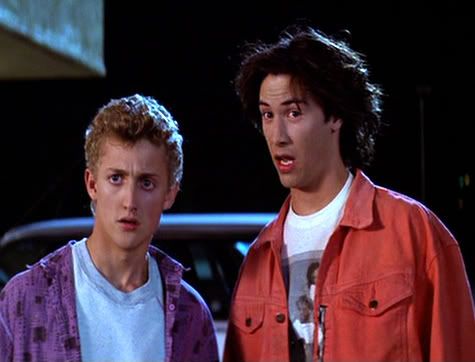 Where does the self fulfilling prophecy work? I stated how it worked in Bill & Ted's instance, how does it work in Minority Reports?
The Precog shows Anderton his crime of killing a man, which sets into motion Anderton being in the situation seen by the Precog. Yet he only goes into motion to clear his name because of what he was shown. If he was never shown that, he would never "kill" a man. He would have no idea who he is or imagine killing him. The Precog didn't see the future, the Precog MADE the future.
It's clear in the film that the future CAN be altered, otherwise the Precogs would be seeing arrests and not murders.
I'm just throwing out things I think about and things I've seen other people discuss. I'm not concerned with the Minority Report business, but thought it would be food for thought in this thread.
Finally what is the urgency in time travel movies? If you have a device that can make you travel through time, like something out of Hogwarts, for example, then you can sit back and relax cause you have all the time in the world.
Do you have a Time Travel plot hole/paradox question? A Nitpick? A Theory? Anything?
__________________
"A laugh can be a very powerful thing. Why, sometimes in life, it's the only weapon we have."
Suspect's Reviews