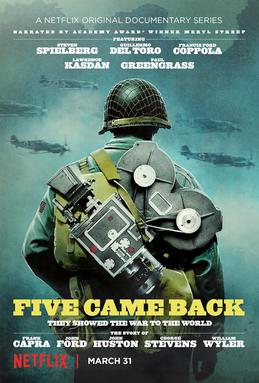 Five Came Back
(2017)
This is a fascinating, gripping, and eye opening 3 part miniseries which highlights five famous Hollywood directors who gave their talents to the American military in order to document the U.S. actions in the European, Italian, Pacific and Japanese theaters in World War II.
The 5 are:
John Ford
(
The Grapes of Wrath, The Searchers
),
William Wyler
(
Mrs. Miniver, The Best Years of Our Lives
),
John Huston
(
The Maltese Falcon, The Treasure of the Sierra Madre
),
Frank Capra
(
It Happened One Night, Itís a Wonderful Life
), and
George Stevens
(
Gunga Din, Giant
).
The documentary covers an immense amount of material in its 3-plus hour total run time. At times the viewer is tempted to stop the playback and re-watch because of interest, shock, or revelation. Surprisingly a lot of the footage filmed by the various star directors is in color, which greatly adds to its authenticity.
Aided by superb and insightful commentary by contemporary filmmakers, chiefly
Steven Spielberg, Francis Ford Coppola, Guillermo del Toro
, and
Paul Greengrass
, we learn the motivations of the five director subjects, what they went through to complete their tasks, and how it affected them psychologically as they returned to Hollywood after the war.
Anyone who is interested in directors from the golden age of Hollywood and/or Americaís mightiest war will learn some new insights and new appreciation for its absorbing subject matter and production. This is rated TV-14. Not suitable for youngsters.
Docís rating: 10/10