28 days...6 hours...42 minutes...12 seconds
8. The Menu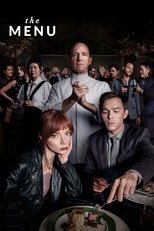 The satire on the food industry and those who devour it worked for me. I thought the Menu was equal parts hilarious, thanks to a scene-stealing performance from Hong Chau, and perfectly held up a mirror to those who critique everything. Seeing Nicholas Holt spew hollow garbage about something he clearly has no talent for reminds me of so many people I know in my life.
A couple travels to a remote island for a fancy and expensive dinner catered only to the elite few. Anya Taylor Joy, Ralph Fiennes, and John Leguizamo round out the cast.
The film boasts some fun performances too. Ralph Fiennes walks a fine line between evil and hilarious in this role, his best since Grand Budapest. My favourite scene has to be when he is requested to make a burger and the look of pure enjoyment on his face was special. I appreciated that we got bits and pieces from the other dinner guests and we were not glued to Joy and Holt.
I'd be lying if I said I expected a more sinister aspect of the film to be present, but I was pleasantly surprised.
__________________
"A laugh can be a very powerful thing. Why, sometimes in life, it's the only weapon we have."
Suspect's Reviews