I never could get the hang of Thursdays.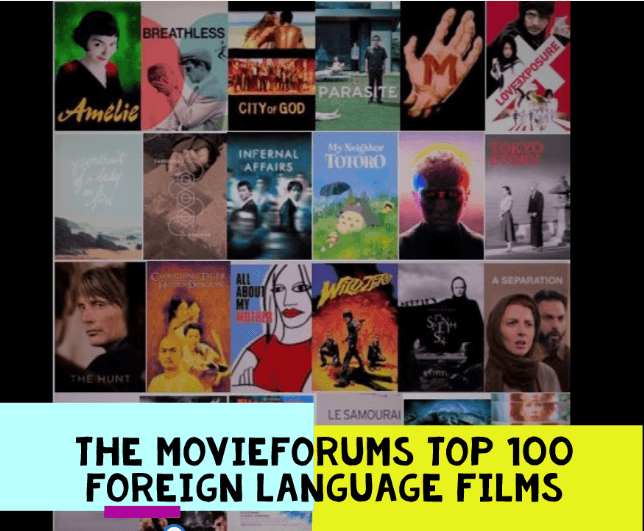 Welcome to the Movieforums Top 100 Foreign Language Films Countdown!
A list of the top movies in a language other than English, as voted for by movieforums members.
There were
74
ballots submitted in total, the majority of them the full 25.
The voters:
Nope 1172, martyrofevil, Holden Pike, Tramuzgan, John W Constantine, ahwell, Steve Freeling, sawduck, Matt72582, Loner, Diehl40, Nidral, Harry Lime, Allaby, Miss Vicky, Guaporense, SpelingError, Thursday Next, Torgo, Kaplan, Phoenix74, John Dumbear, seanc, Skepsis93, Hey Fredrick, HashtagBrownies, GulfportDoc, PahaK, Mr Minio, Chypmunk, the samoan lawyer, Takoma11, mark f, re93animator, neiba, Thracian Dawg, crumbsroom, donniedarko, Thief, wositelec, Citizen Rules, Rockatansky, Taz, ElizabethOliver, MovieMad16, Jabs, Wyldesyde19, KeyserCorleone, Jinnistan, Fabulous, Okay, resopamenic, rauldc14, cricket, Siddon, rbrayer, John-Connor, edarsenal, jiraffejustin, ApexPredator, ScarletLion, Yoda, kgaard, Frightened Inmate No. 2, moongirl, intialen, gbgoodies, Iroquois, WBadger, Captain Spaulding, Aidanc, Nemanja, sarah f, gandalf26
753
different films were voted for. That's a lot of films! There were a lot of really good films that didn't quite make the top 100. So, in anticipation of the question, "how come X movie didn't make it?", the answer is simply because other movies got more points.
Please join in the discussion, but don't share your full list until the end. Try to keep discussion respectful and on-topic, and no gongs.
Here we go!