The Bike Thief (2020)
Directed by
: Matt Chambers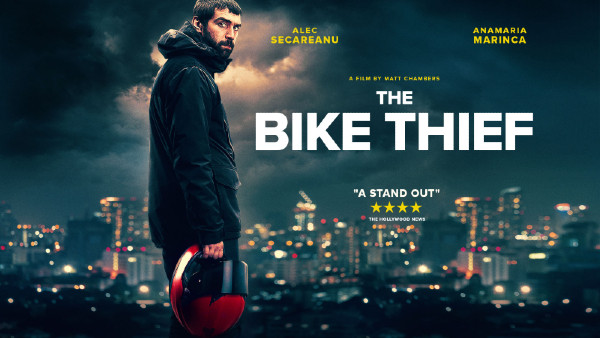 Cast:
Alec Secareanu, Anamaria Marinca, Anna Wilson-Jones, Lucian Msamati.
The movie is centered on a pizza delivery boy's daily life, an immigrant with a wife and two children who's trying to put food on the table by taking the deliveries along and across London. They live in a regular apartment in a block from a semi dangerous neighborhood in UK's capital.
The film depicts the fragility of immigrant life and the day by day difficulties such people have to encounter.
Had some higher hopes after seeing the movie's synopsis and the trailer. A pretty weak film I might say. I remember seeing a similar movie (also about an immigrant family - this time Bulgarian - living in London) not long ago....film which was a bit superior to this one...
The cast though is worth mentioning... I've seen
Alec Secareanu
in another movie called:
God's Own Country (2017)
where he was nominated at the British Independent Film Award along with Josh O'Connor who was a winner at the Festival, both playing the roles of a gay couple - a film directed by Francis Lee.
Anamaria Marinca
we've seen her too acting in
4 Months, 3 Weeks and 2 Days (2007)
/
Tin Star
(second season - TV series with Tim Roth acting as the main character), /
Fury (2014)
/
The Old Guard (2020)/ Ghost in the Shell (2017)
all very well known movies, but where she interpreted smaller roles mainly.
She also played in
Doctor Who
TV Series and in
Youth Without Youth (2007)
directed by Francis Ford Copolla.
6/10
__________________
"Everyone should believe in something. I believe I will have another coffee..."
― Unknown