I believe in the heart of the cards
As I've said before, I'm worried about this new movie, but I'm also a fan of this franchise since the beggining, consuming everything (years on forums) it has to offer, including the games. I talk about the Matrix lore since I know what lore is and I can't resist watching the trailer again, again and again - and the teasers from the official website:
https://thechoiceisyours.whatisthematrix.com/br/
- since I don't have crazy friends like me anymore, I want to use this place!
First:
There are a lot of touches between Neo and Trinity in this trailer, you can see them touching in almost every scene they are together - Trinity has her hands on Neo's back when he is stopping bullits.
They even jump out of that building together.
My guess is that One complements the other (or Trinity gives some kind of power to Neo by touching him). Why? I believe Trinity was ressurrected by the machines for some reason. Also, I believe that Trinity is the one that goes to fly Neo after this jump, cause... Well, it is how it works on Hollywood now. But I honestly hope both of them fly, now that would be amazing!
Trinity has this weird stuff on her neck - we can see Neo with one of this in one of the teasers too (shot in a similar way he touched his neck in the first film)
If she was back in the Matrix, what does that mean for her as an individual within the simulation? Trinity herself told Cypher after his betrayal that it was impossible to go back - Morpheus also told Neo the same - but that may means that humans can't do it (or don't know how). But why? Why saving him? Why saving Trinity? Saving a treat? Balance, maybe?
Neo was the one to update the matrix or it was Sati?
Also, about Sati:
I think it's her!
Is she the new oracle? Don't know...
But I hope so.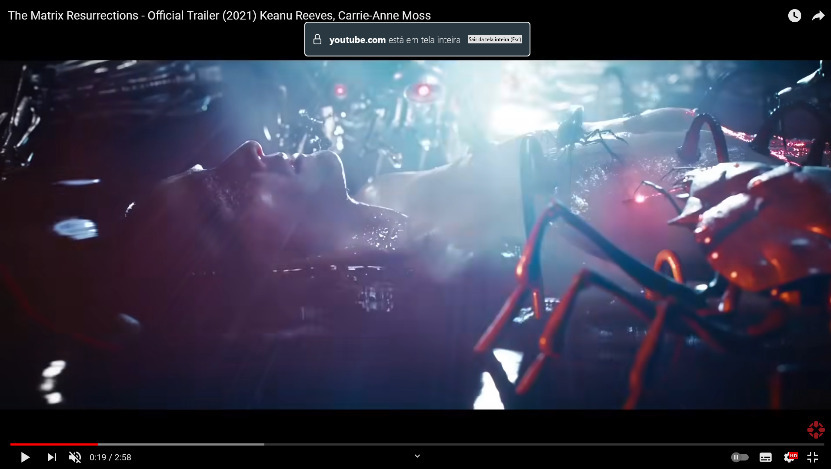 Blind Neo. Just like it was. The machines cured him:
__________________
変身 ~ Henshin
Last edited by Ultraviolence; 09-14-21 at

01:57 AM

.