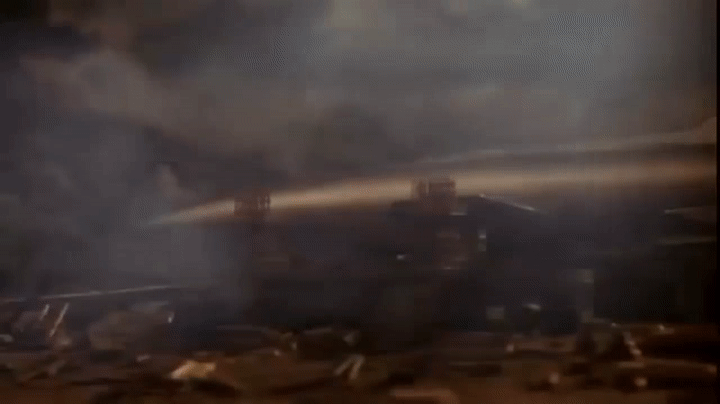 When Worlds Collide
- 1951 sci-fi dealing with a rogue planet on a collision course with Earth. I suppose the most benign approach to mentally filing this away is as a sort of quaint artifact. It opens with a Bible verse and is adapted from a 1931 novel so it's more fi than sci. And outside of a UN assembly there's not a single person of color in the movie and certainly not on the passenger manifest of the spaceship they end up building.
There's a scene early on in a general store somewhere in ... I don't know ... Hooterville. There's a full crowd gathered around the radio listening to the bad news that the so called "crackpot scientists" were right and Earth is doomed. A display table is piled high with loaves of Wonder Bread. To me all that white bread made for a great metaphor.
At a South African observatory pilot David Randall (Richard Derr) is handcuffed to a briefcase containing photos and scientific data and flies to the States to hand deliver it to Dr. Cole Hendron (Larry Keating). The info confirms the gathered scientist's worst fears and after some UN dithering the group finds some benefactors with deep pockets who agree to fund the start of the construction of a space ark. Veteran character actor John Hoyt shows up as ruthless rich guy Sydney Stanton. He's bent on surviving the extinction level event and ponies up the remaining millions in exchange for a reserved seat.
There's the requisite romance with Randall and Dr. Herndon's daughter Joyce (Barbara Rush) getting cozy. At around 80 or so minutes the movie does hold your attention. It's filmed in rich Technicolor and the scenes of devastation when the larger planet passes by are passable. It does end on a
WARNING: spoilers below
bit of a fatuous note though when the survivors land on what is apparently a cartoon planet. You half expect Bambi to come bounding out of the forest.
Still though it's a George Pal production and he holds true to form with this, generating some not too shabby spectacle on a limited budget.

80/100