LONELY HEART KILLERS

starring: John Travolta,James Gadolfini,Scoot Caan,Laura ,Jared Leto and Salma Hayek
This movie is called either Lonely Hearts or Lonely Heart Killers,depending on what country you live in-the movie itself is sadly the same everywhere though.
I`ve tried to watch this movie several times,i bought it some years ago cos but never managed to finish it,but i did last night-hoping it would prove me wrong.
Despite this being the story of serial killers Raymond Fernandez and Martha Beck,who killed up to 20 people after meeting them trough dating ads,this movie is surprisingly dull.
Its got all the wrong moves the black dahlia had,which is another one i never finished.
The movie comes across as a bit of a direct to tv movie,it
looks
nice but theres nothing really to it,nothing that pulls you in. Despite this being a "great" story on its own,they choose to give most of the screentime to the cop working to catch them,played by John Travolta-who has his own personal demons,something they again just tap into without really bothering to follow through on.
The real story here is Martha and Ray,played by Jared and Salma.
now theres some flaws here aswell,the moviemaker never really makes it interesting and skips about 99% of what went on with them.they have of course taken some liberties aswell,Martha was in real life so big they couldnt even fit her into the electric chair and in the movie she looks like this: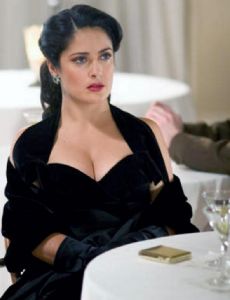 because what would the use of woman be if she isnt skinny and hot?
I didnt feel any connection to any of the characters,not the ones you were supposed to like and not the ones you were supposed to hate,there was no tension,no build up,no atmosphere,no nothing.
theres one good scene between jared and salma near the end and thats basically it.
waste of a good story,waste of a good cast,waste of time really.