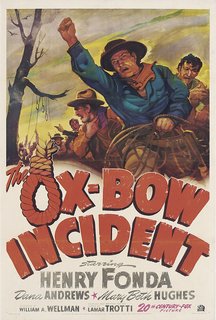 By "Copyright 1942 Twentieth CenturyĖFox Corp." - quScan via Heritage Auctions. Cropped from the original image., Public Domain,
https://commons.wikimedia.org/w/inde...curid=86897736
The Ox-Bow Incident
- (1943)
I have @
Citizen Rules
to thank for this very enjoyable watch, having come across one of his reviews by chance - it sounded good, and by lord it was very good. Up there with the best Westerns I've ever seen - the likes of
3:10 to Yuma
,
High Noon
and
Stagecoach
, but with far more weight considering it's powerful message. I left this on Letterboxd : "I've seen enough of the law mocked and subverted by powerful men to really appreciate this movie at this time, and I've seen enough bloated 160 minute self-indulgent movies to really appreciate one that's 75 minutes long and does more than all of them put together." It was an impromptu watch, and yet it blew the big film I'd been planning to watch all along out of the water. Henry Fonda and Anthony Quinn are great, the latter of whom had a fair few movies under his belt already, as young as he looked. Happy to have seen it.
9.5/10
By
http://www.impawards.com/2019/spider...home_ver6.html
, Fair use,
https://en.wikipedia.org/w/index.php?curid=60832103
Spider-Man : Far From Home
- (2019)
The whole Marvel Cinematic Universe franchise seems to have been pretty spent after
Avengers : Endgame
, as evidenced by this at-times enjoyable but somewhat unsatisfying Spider-Man entry. The Spider-Man arc has been my least-favourite of the varied threads in this universe, and as such there were times during this when I felt disconnected. Although it moves the story of this character forward, it's your typical "threat arises - threat is vanquished" episodic number, and there were a few plot holes that bothered me throughout. There were scattered moments that I enjoyed, and some jokes landed, but this was a bit of an anticlimax which serves as the close of the Infinity Stones saga and beginning of the Multiverse one. I started watching
Into the Spider-Verse
after this, and started enjoying myself again - it's far superior.
5/10
__________________
My movie ratings often go up or down a point or two after more reflection, research and rewatches.