28 days...6 hours...42 minutes...12 seconds
Day 256: January 11th, 2011
Stone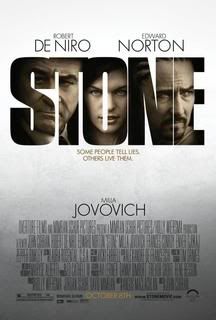 Slow and utterly boring.
A convicted arsonist looks to con a parole officer into getting him out early, with the help of his sexy wife.
The premise of this film is pretty lame if you ask me, but it seemed to draw some talent so I gave it a chance. The talent this film got must have been because of the dollar signs because Stone is a boring, tepid film that goes nowhere and entertains no one. The film tries to be more important and self righteous than it actually is and this is where it falls flat.
DeNiro hasn't been in a good film in years, to me his last decent one was with his co-star of this one, ironically. The Score, even then he seemed on auto-pilot. Here he shows no signs of caring for the material as he goes through the motions of spewing out the dialogue and hitting his marks. Edward Norton, upon first glance, makes you giggle. His character has cornrows and speaks like a thuggish kid. Norton somewhat pulls it off and he has the more interesting role of the two. His character goes through some kind of epiphany, or doesn't. It's not really clear, neither is how the con actually worked or why.
The con was to get his wife, Milla Jovovich to 'convince' DeNiro in helping him get out early. After one chat with him he becomes a horn dog and sleeps with her. The con was lame and uninteresting, nor does it explain how it works. My interest level faded fast with this one. The story was as dull as the characters. Even the subplot involving DeNiro and his unhappy wife was a bore. I wanted the film to end sooner than it did.
Most of the film is simply the two characters talking. So Stone is a character driven piece and not some kind of thriller as the trailer would have you believe. Character driven movies have to be careful, because in order for you to want to finish the movie you need to have some sort of emotional investment in these guys. Stone gives you no reason to care or to even finish the film.
Everyone involved, even Jovovich, can do better. The writing here is below par and the performances, while decent, do nothing to draw you in. The film is confused as to what genre it wants to be in. Stone leaves loose ends everywhere and the final act seems out of place. It ends on a weird absurd note that finally manages to ignite some kind of emotional response from the viewer....it's anger.
__________________
"A laugh can be a very powerful thing. Why, sometimes in life, it's the only weapon we have."
Suspect's Reviews