28 days...6 hours...42 minutes...12 seconds
Armored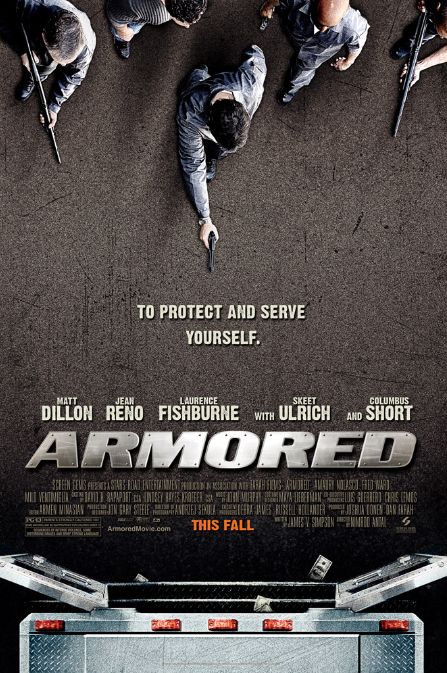 A new guard in in the armored truck gig is recruited by his co-workers to steal 42 million from the truck. No bad guys, so no one will get hurt, right? Of course things go wrong and the new guard decides to have a conscience and make things right by saving the life of a dying man.
I'll admit that I didn't really have any interest in this film, but I didn't have any interest in Fantastic Mr Fox either, and that film made my top ten of the year. Armored is even more of a disappointment then I thought it would be. As a heist film, it fails to deliver the goods, it's boring and full of plot holes and leaps in logic that one will hurt themselves thinking about it.
Despite this the film somehow has a really great cast, but the film doesn't even use this to it's advantage. Everyone seems wasted in wooden characters that make stupid choices. Columbus Short is an uninteresting lead that is never charismatic and never makes the audience want to give a crap. Matt Dillon is the mastermind behind the heist and he plays Mr. Nice Guy at first, then when things don't go his way he quickly becomes the villain. The rest of the impressive cast include Lawrence Fisburne, Jean Reno, Skeet Ulrich, Fred Ward, Amaury Nolasco from Prison Break and Milo Ventimiglia from Heros. Non of them do much and when they actually do something, it's without much reasoning behind it.
The film is relatively short, but even with it's running time under 90 minutes, it felt dragged out. How long can you make a movie about a guy trapped somewhere? Phonebooth did a decent job and it was even more restricted. The leaps of logic concerning the plot here are tragic. 42 million and all the security they have are check ins every hour or so? The entire plan from my understanding was to drive the trucks into an abandoned warehouse and hide the money. Pretend to get hit and burn the trucks. They would then walk away with the money. Of course something goes wrong, or there would be no movie right? Through a series of unfortunate events out so called hero has trapped himself inside the truck with an injured officer. The rest of the movie is Dillion and his crew banging on the doors to get in. How very exciting.
The script calls for our hero to have financial problems, he might lose his house, which would in turn make him lose his brother. You see, both their parents died and it's just the two of them looking out for each other. So now he has a reason to join the heist. At first he didn't want in, but his money problems is just the right push to throw him in the thick of things. How convenient.
Armored's whole spin on the heist genre is that it's from an armored truck, from the guys who drive it. After that basic premise, the film falls flat on it's face. I found myself wanting it to end sooner and sooner each time someone spoke. Speaking of the ending, it sucks.
Skip it.
__________________
"A laugh can be a very powerful thing. Why, sometimes in life, it's the only weapon we have."
Suspect's Reviews