KEYSER CORLEONE'S ROCKY WEEK!

Rocky IV
(1985) - Directed by Sylvester Stallone
--------------------------------------------
Boxing / Drama
-------------------------------------------------

"If I can change and you can change, everybody can change. "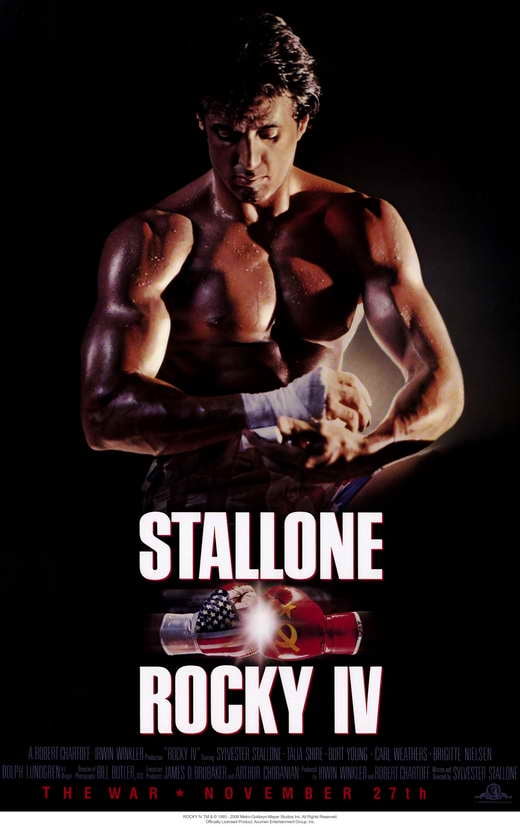 Four down. Rocky IV is where the franchise begins digging for different ideas in order to keep the masses coming. Maybe Rocky was getting too many sequels, but what mattered was whether or not the people kept coming for more of the world's most famous underdog who isn't Underdog. Stallone made a name for himself as an actor, a writer and a director. So could he keep it up?
Rocky IV sees a new challenger from out of town, and country, coming to America to fight the best of the best. The Russian Ivan Drago, played by Dolph Lundgren, is a machine in body, mind and soul. And he's so powerful that he can take down Apollo Creed, as seen by the match that changed the world. Unsure of his own talent, Rocky leaves for Russia to train in the harsh snow and wilderness in order to prepare for the match of a lifetime.
AAAAAAAAND you can sense the sequelitis, can't you? It's pretty obvious that the Rocky franchise is being more influence by its 80's surroundings. I mean, we literally get a robot butler. If one more robot butler comes out...
I mean this movie was kinda dorky. We get a musical number where Creed is taunting our villain Drago with a bunch of funk musicians singing about America before the big fight. I mean, when were the Globetrotters coming, huh? And then we get another musical number of clips from the previous movies, or more accurately a music video with a lame-o AOR song that pails in comparison to Rocky III's "Eye of the Tiger." In fact, the middle act is more devoted to playing potential hit AOR than it is telling the story.
It starts out with some promise and another charismatic performance by Carl Weathers. But once his character arc ends, Rocky just goes on another training montage and the montages and light bursts of story last until we actually get to the fight. Then the fight show Stallone as a director trying his best to outdo the fights of the first three movies with more flashy cinematography and direction. But pounding on a lacking so-called villain like Drago does nothing for the story. This is coming right off the back of a movie with Mr. T as the main bad boy, so it feels kinda lame, despite still having heart and soul.
Rocky had run its course by then. IV was a disappointment with some good direction. I hear the director's cut had more story, but this was the only cut I could find online, and for whatever reason, people said the original was better. I'm really starting to doubt that. This was only slightly more entertaining than Space Jam.
= 49/100
Sylvester Stallone's Score (3 Good vs. 1 Bad)
Rocky III: 75
The Expendables: 73
Rocky II: 73
Rocky IV: 49
67.5 / 4