Jungle Fever
(1991) - Directed by Spike Lee
--------------------------------------------
Drama / Romance
-------------------------------------------------
"There's something you should know. I'm having an affair."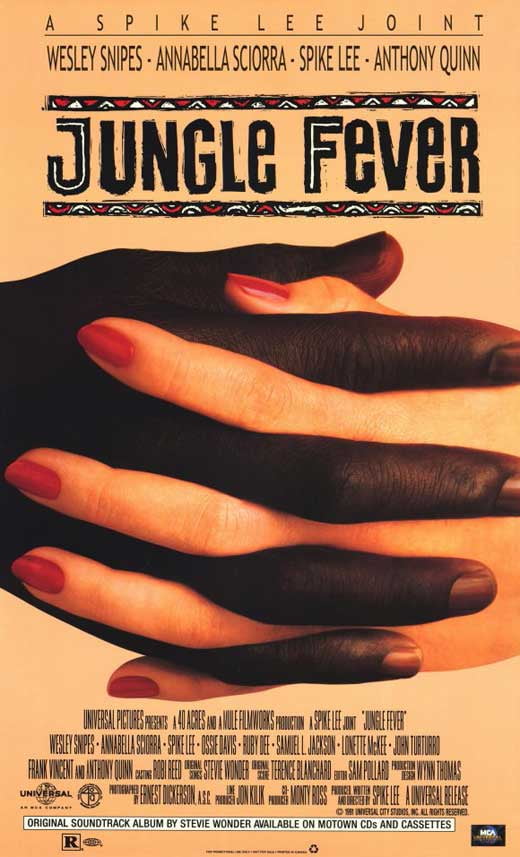 Sorry I didn't upload a review yesterday for a Spike Lee movie. I had a get together with my two brothers at a church. To be honest, it was a pretty lowbrow get together for a church group. All we did was build gingerbread houses, watch Elf and playing the saran wrap game. It was a good get together, but if life has taught me anything, it's that there are plenty of places on Earth where philosophical discussions and places are not so tight and red-hot as Reddit. Movieforums is a good example, as the users are still in a not-so-heated discussion about the ethics of race-swapping.
And now I review Jungle Fever, the heaviest modern racial commentary I've exposed myself to. This is the story of tension arising between the families of an intersex relationship: an Italian woman who likes people, and a married black man with a color complex. Our leading man, Flipper (Wesley Snipes) has enough difficulty with his heavily religious parents and his crackhead brother Gator (Samuel L. Jackson in a PERFECT performance). But when Flipper is thrown out of his house by his wife and starts living with his new girlfriend, things aren't as easy as they seem.
Gonna write this while listening to one of the songs from the movie: Living for the City, from my favorite African-American album: Innervisions by Stevie Wonder. The first hour is where most of the actual racial commentary happens. On a basic level, the commentary is dense, even though it reeks of discrimination from all sides of the skin-color pencil box. Whether it's a bunch of black women talking about how white women want some black meat or whether or not it's about an Italian family not allowing any other race to be a part of their family, it's all uncomfortable to hear.
And I'm sorry, but Flipper's family is just ****ED UP. This is not a family I enjoyed watching at all, because eveerytime Flipper or Gator's issues became a family thing, I just got more disappointed with them. At least Jackson played Gator very well. But the way the family plot lines are resolved are brutal, thrown in and leave a bad taste. And then there's some nasty stuff going on in the Italian families of the film, not only our girl Angie's family with a father who went maniacal as soon as he heard about the relationship, but also with Paulie, a guy who used to date Angie and is starting to hit it off with a black woman. His friends and family treat him like crap and disown him for this. Oh my god. This is what we got for a plot.
And my final criticism: not enough Stevie Wonder. Stevie's the best soul artist on Earth IMO, and if you're gonna promote Stevie in the stylistic opening credits, you gotta have more focus on it. Hell, just turn Jungle Fever into a Stevie Wonder musical already.
OK, I'm not a fan of this, really. Among the good acting and clever direction is just too much racial commentary that never progresses beyond discomfort. There's way too much hate and unresolved family situations. Jungle Fever tests the boundaries of acceptable family issues in film way to often, and is a consistently uncomfortable movie that doesn't resolve the themes with the dense commentary on racism and drugs, neither of which mold very well. It felt thrown together, incomplete and uncomfortable, although this does mean the drama was effective. And the effect drama was keeping the movie watchable until the third act which just gets wild and hard to watch.