The Prom (2020)
Ryan Murphy returns to his musical comedy roots that originally manifested themselves with the musical television series
Glee
.
The Prom
is an overblown though well-intentioned film version of a Broadway musical that features a serious dose of star power and attempts to send some positive and important messages about bigotry and acceptance. Sadly, said messages get lost among a lot of musical razzle dazzle.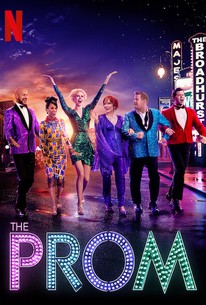 Dee Dee Allen (Meryl Streep), Barry Glickman (James Corden), and Angie Dickinson (Nicole Kidman) are three arrogant and self-absorbed Broadway stars whose careers are circling the drain and decide that they need to get behind some kind of cause to bring credibility back to their lives and careers. Accompanied by a former sitcom star who now works as a bartender at Sardi's (Andrew Rannells), the stars travel to a small Indiana town to support a teenage girl whose desire to take her girlfriend to prom results in the school cancelling the prom.
The musical upon which this film is based opened on November 15, 2018 and ran an unimpressive 309 performances but I'm sure it was Murphy's passion regarding the subject matter was probably his driving force in bringing this story to the screen, but I think Murphy's passion for the project gets clouded with his desire to bring a good old fashioned musical to the big screen. The contemporary messages in Bob Martin and Chad Begulin's screenplay are important ones and a couple that haven't really been addressed onscreen before. Primarily, that people don't "turn" gay, they are born that way and that a man doesn't have to be gay to enjoy Broadway musicals, evidenced in a nicely realized subplot that finds Dee Dee falling for the school's principal, nicely played Keegen-Michael Key, who saw Dee Dee's first Broadway show and has worshipped her ever since.
Unfortunately, these important message get buried under a lot of very long and elaborate musical numbers that, though competently mounted with some great choreography and editing, all go on much longer than they need to and take the focus off a really important story that is attempted to be told. There was a point where it felt like this story could have been told much more effectively without the musical numbers.
Several songwriters contributed to the slightly sugary score, which should have been edgier than it was, considering the subject matter. Musical highlights for this reviewer were the production number led by Streep called "It's Not About Me", Key's "We Look to You", Streep's number in the principal's office called "The Lady's Improving", and Kidman's Fosse-like showstopper "Zazz."
Meryl Streep fully commits to this sometimes obnoxious character who is aware of her flaws but we can't help but love her. James Corden is a lot of fun, in a performance that seems to be channeling Eric Stonestreet on
Modern Family
, and Kidman makes the most of a thankless role. Mention should also be made of Kerry Washington, surprisingly effective as the story's villain, the uptight PTA mom whose daughter is part of the couple at the heart of the story, charmingly played by Drew Barrymore look-alike Jo Ellen Pellman and Ariana DeBose. Murphy's direction is sincere but undisciplined, just wish the whole thing had been reined in a bit.
Last edited by Gideon58; 01-18-21 at

08:05 PM

.