Bright light. Bright light. Uh oh.
The Brothers Grimsby
(Louis Letterier, 2016)
Creature Companion
(Melika Bass, 2018)
Lourdes
(Jessica Hausner, 2009)
Ready Player One
(Steven Spielberg, 2018)
A few obvious Spielberg film references.
Traveling Saleslady
(Ray Enright, 1935)
The Arrangememt
(Elia Kazan, 1969)
Maze Runner: The Scorch Trials
(Wes Ball, 2015)
Get Yer Ya Ya's Out
(Albert Maysles, Brad Kaplan & Ian Mankiewicz, 2009) -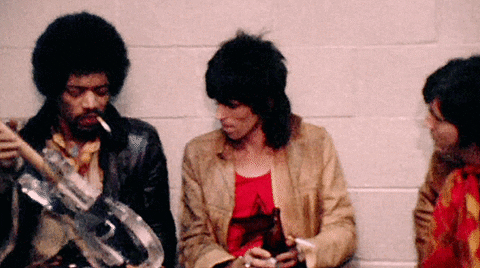 Jimi Hendrix & Keith Richards c. 1969.
The Hymns of Muscovy
(Dimitri Venkov, 2018) +
Chappaquiddick
(John Curran, 2018)
Two Too Young
(Gordon Douglas, 1936)
Colleen
(Alfred E. Green, 1936)
The movie's highlight – the fashion show.
The Immortal Blacksmith
(Sammy Lee, 1944)
The Work
(Jairus McLeary & Gethin Aldous, 2017)
The Kid from Kokomo
(Lewis Seiler, 1939)
Runaway
(Michael Crichton, 1984)
Maniac Gene Simmons celebrates Independence Day early.
Carolee, Barbara & Gunvor
(Lynne Sachs, 2018)
Yankee Doodle Goes to Town
(Jacques Tourneur, 1939)
Ideal Home
(Andrew Fleming, 2018)
Manhatta
(Paul Strand & Charles Sheeler, 1921) +
Doc showing Manhattan pre-Chrysler and Empire State Buildings.
__________________
It's what you learn after you know it all that counts. - John Wooden
My IMDb page