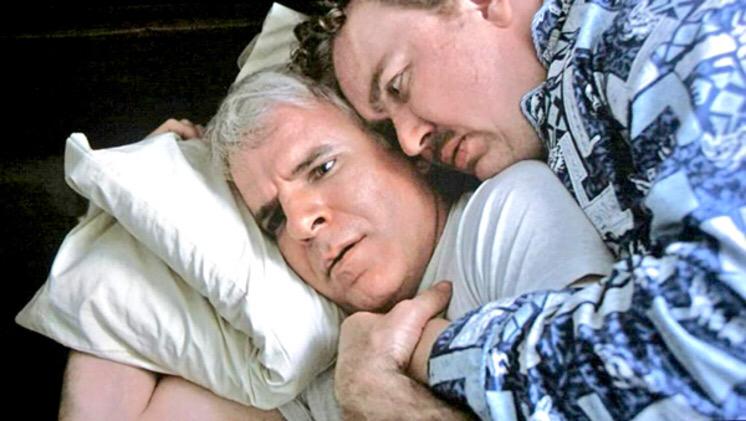 Planes, Trains, and Automobiles
[waking up after sharing the same bed on the motel]
Neal:
Del... Why did you kiss my ear?
Del:
Why are you holding my hand?
Neal:
[frowns]
Where's your other hand?
Del:
Between two pillows...
Neal:
Those aren't pillows!
[they both leap out of bed, screaming and shaking their hands in disgust]
I remember being kinda so-so with this when it first came out. Don't remember why I felt that way, I just did.
This time around. . . rather enjoyed it. Definitely much more than I once did.
Chuckled quite a bit and found Candy's character kind of endearing actually. Kind of makes me wonder how much of that inner John Candy was brought out for Del.
Steve Martin does very well as the "straight man". His frustrations and outrage is very palpable and you really feel for the guy as every nightmare horror of Holiday traveling is brought to life.
Like his
[email protected]
walk back from the rental parking lot TO the rental desk where he spouts the only swearing involved in the movie. The amount making up for the rest of the time. And, of course, Edie McClurg was PERFECT for the Agent who ends it with telling him, "I guess you're
[email protected]
"
Hughes does well bringing comedy to characters that appear very cliched, but end up with far more emotional depth. We get to see that as Neal and Del's adventure gets worse and worse and worse. And somehow, somehow, their friendship grows by the end of it.
I, too, liked this movie a lot better the second time I watched it. Steve Martin is terrific.