#7 South Park: Bigger, Longer, and Uncut vs. #10 Frozen
1. Originality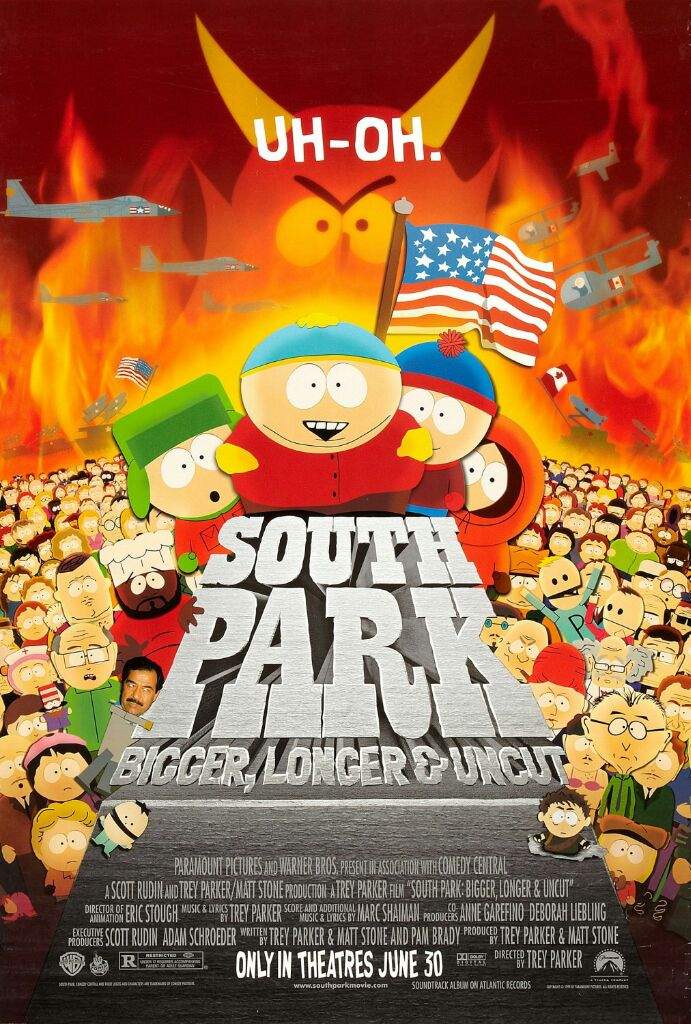 South Park: Bigger, Longer, and Uncut
This whole movie is bizarre and original. Whether it's three young kids swearing as much as in a Quentin Tarantino movie or the gay relationship between Satan and Sadam Hussein, there are so many odd and original things about this film. The songs also add an absurd touch.
2. Script/Screenplay
South Park: Bigger, Longer, and Uncut
This movie has some hilarious lines, and the screenplay is bursting with wit and humor. The scenes between Satan and Sadam are Gold, and while the fart jokes and f-bombs get tiresome much of the movie is just a blast.
3. Animation
Frozen
By Frozen, Disney had finally gotten their rhythm going for good CGI animation, and no movie shows it better than Frozen. There are so many beautiful colors and tone schemes in this film, and all the characters are crafted excellently. It is just a joy visually.
4. Characters
Frozen
Elsa and Olaf are annoying, but I love the rest of the characters. Anna is great as our main protagonist. She has a cheerful and bubbly way of living life that is always fun. Hans is great - if predictable - as the villain, and Kristoff and Svenn are a great pair as well.
5. Music/Sound
Frozen
There are actually some great songs in South Park, but Frozen is clearly better. With classics like "Let it Go" and "Do You Want to Build a Snowman" Frozen has earned it's iconic status in terms of Disney pop songs. Although many of these songs were overplayed and hyped to the point of becoming a joke, that doesn't lower the quality. The music is still very good.
6. Themes/Values
South Park: Bigger, Longer, and Uncut
This dark satire does have some important things to say. Along with being an interesting study on freedom of speech, it has criticisms of the United States and their relationships layered in its surfaces. If only it wasn't so deep beneath those stupid profanity jokes.
7. Structure/Pacing
Frozen
Both of these movie have a somewhat flawed structure, but Frozen is still better paced. Frozen takes time to set up Anna and Kristoff's relationships, and this pays off hugely in the end. But the climax in the frozen lake is also a gem.
Frozen - 4
South Park: Bigger, Longer, and Uncut - 3
Winner: #10 Frozen