Bird Box
The post Apocalyptic drama gets an effective facelift in the 2018 Netflix original
Bird Box
which, despite solid direction and some strong performances, still falls short of what it should have been.
The film stars Sandra Bullock as Mallory, a pregnant woman on her way to see her doctor with her sister (Sarah Paulson) when she sees a report on TV about a terror in the USSR that is causing people to kill themselves. While in the hospital, Mallory pieces together that this terror/entity has reached America and while trying to escape, is shocked to watch the entity kill her sister. She manages to find refuge in a house full of strangers (including another pregnant woman) who have found safety indoors and realize they might be trapped inside this house forever.
The screenplay by Eric Heisserer, based on a novel by Josh Malerman, deliberately shields the viewer from quite a lot of what's going on, most specifically, what this entity is and why it affects different people in different ways, confusing the viewer and making it hard to keep their eye on the cinematic prize. It's confusing as to why the people in this house are so reluctant to help people still outside, though this does eventually become clear, even if it takes a little too long to do so. A lot of suspense in the story is also diluted because the story is told in flashback...we know at the beginning of the movie that Mallory and two children are making a blindfolded escape down a river and that they are alone, so we already know that all these other characters we've been introduced to are doomed. It's become so fashionable in film to tell stories in flashback but this was one case where I think it was a detriment.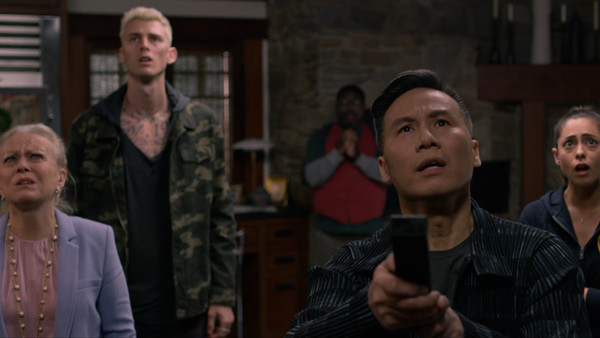 There were other plot contrivances and conveniences that I had trouble with. It seemed a little contrived that this entity didn't affect everyone the same way, taking a lot of the logic out of the story. There are also unexplained plot elements introduced way too late in the story for the viewer to accept...was unable to get behind those scenes near the climax where Mallory gets separated from the children and those faux Mallory voices are telling the children it's OK to remove their blindfolds. It was too late in the story to be introducing a layer that thick to the audience.
On the positive side, Susanne Bier's imaginative and stylish direction is a big plus, aided by some first rate production values, with special nods to cinematography and sound. The cast is first rate too...Bullock has never been better and there is solid support from Trevonte Rhodes and the always watchable John Malkovich. It takes a minute to get going, but this one did have me on the edge of my chair for most of the running time, when I stopped trying to figure it out.
Last edited by Gideon58; 11-16-20 at

04:19 PM

.