Metropolis
Fritz Lang 1927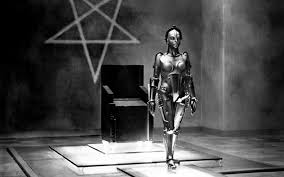 What a pleasant surprise this was. I get frustrated at myself as a movie fan sometimes because I don't feel I watch films through the lens of when they were made.
Metropolis
greatly impressed me on that level. Fist off the reason it took me so long to get around to this film is there is no way I thought a two and a half hour silent film would engage me throughout. Not only did it, but it honestly felt like it could have been longer.
This film is unbelievably ambitious. Tackling themes of technology, class warfare, religion, and even finds time for romance. After watching I called this film the mother of all genre films because not only is it sci-fi but plays as a horror and a thriller at times as well. It does all that while never feeling bloated or unfocused.
I was even impressed with the visuals. The city looked really cool. I like the design of the robot and the lab she is built in. I love the catacombs the most, including the statues of the seven deadly sins. Death coming to life was impressive.
Incredible viewing experience. One that I will be gushing about for quite a while.