#569 - The Broadway Melody
Harry Beaumont, 1929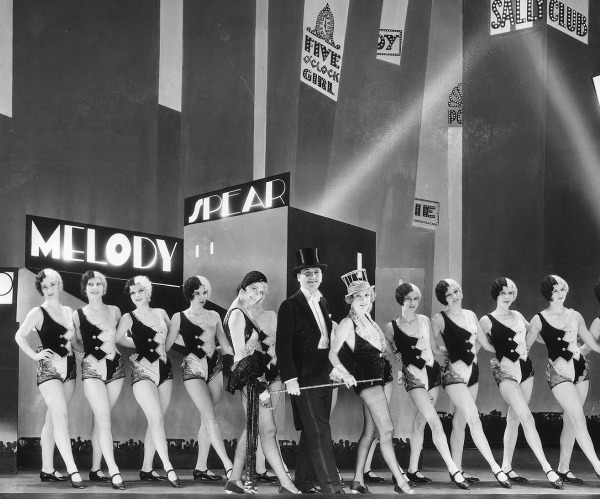 A pair of sisters who perform in a vaudeville singing act come to New York to make their big break into show business.
I'm no stranger to disagreeing with the Academy's opinions over which films deserve to win the annual Best Picture award, but I do have to wonder if I could ever fairly judge some of the award's earliest recipients.
The Broadway Melody
is the second film to ever win Best Picture and in doing so became the first of many musicals to achieve the honour. It came out of the era where talking pictures had just been invented and filmmakers everywhere were attempting to adapt to this new technology, so of course the most obvious application was to use it to record the crowd-pleasing antics of song-and-dance numbers. This film also justifies said antics by integrating them into a fast-talking backstage drama as two sisters looking to make the big time find themselves challenged by the cynical machinations that take place behind the scenes of all the light and wonder. Some of this manifests in the way of the sisters having their personal and professional relationship threaten to collapse under the demands of the industry and of the men that work within it, regardless of their intentions being malicious or benign.
Honestly,
The Broadway Melody
is boring. I realise that context is important and that, if nothing else, it does do a decent job of staging its musical numbers, but for the most part it's an extremely standard example of an early talkie. The characters talk at great length with great speed and have use period-appropriate idioms, but the somewhat convoluted conflicts that arise between each of the characters does little to engage beyond a vague sympathy for both leads (which is less because of anything specific about them than because of a general desire to see them survive in this vicious racket). None of the actual songs stand out one way or the other either. My ratings for films that I consider "boring" but not genuinely awful tend to see-saw between one-and-a-half popcorn boxes and two popcorn boxes; here, I think that it might as well get the lesser rating. Just because a film doesn't engender any hatred doesn't automatically mean that I like it either, so it's difficult to recommend this to anyone who's not already genuinely interested in musicals (my own interest is pretty...inconsistent, so take my words with a grain of salt) or completionists looking to watch every Best Picture winner, though in the latter case my recommendation or lack thereof would be irrelevant.