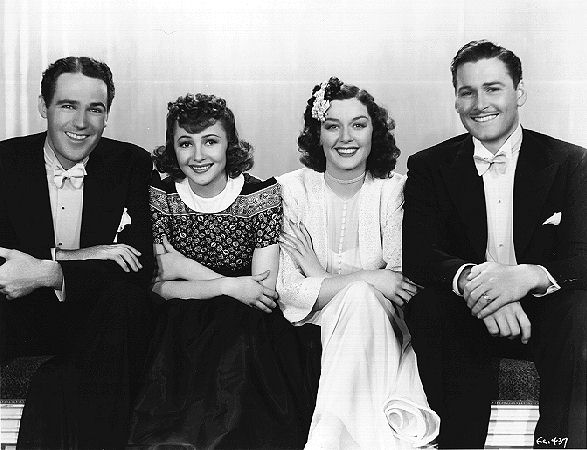 Four's a Crowd (1938)

Director: Michael Curtiz
Cast: Errol Flynn, Olivia de Havilland, Rosalind Russell, Patric Knowles
Production Studio: Warner Bros
Genre: Comedy Romance


Premise: A newspaper reporter (Rosalind Russell) secretly loves her boss (Patric Knowles) or does she? The boss is engaged to a millionaire's daughter (Olivia de Havilland), she might love someone else or does she? Meanwhile a likable public realtions man with questionable business tactics, (Errol Flynn) comes along and stirs things up.

Review: Four's a Crowd is a hilarious screwball comedy from 1938. It's not well known as it only recently became available on DVD. What makes this film a hidden treasure for classic film fans is the early performances of Errol Flynn and Olivia de Havilland. This is the fourth out of nine films that they made together. Here both are playing character types that we don't often see them do in their other films.

Olivia plays a foo-foo type millionaire's daughter. She's quite good at doing humor. Errol is funny in this too as he charms the ladies, while keeping his eyes on the money. His role is almost a Cary Grant type.

Just for fun....there's a HUGE model Lionel train set in the backyard of the millionaires estate, complete with cities and landscaping. There's a train racing scene with Errol Flynn betting he can win. Even if you don't like trains, the scene is good.

Also interesting....is a very brief appearance by actress Gloria Blondell, who's Joan Blondell's sister. And there's an even briefer appearance by future starlet, Carol Landis.

I laughed out loud and will watch this one again.

+



Last edited by Citizen Rules; 09-22-18 at

07:51 PM

.